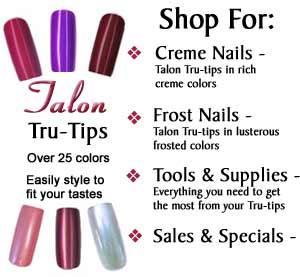 Talon Tru-tips are a full nail tip artificial fingernail. Unlike many artificial nails on the market today, Talon Tru-tips are both beautiful and durable. You can shape these prepainted nails to the length and style you desire and no one will know they are not your natural nails. Unlike expensive acrylics, Talon Tru-tips can, with care, be used again and again. They can be worn for everyday beauty or brought out for those special occasions.
Talon Sales & Distribution manufactures and distributes the Talon Tru-tip line of artificial full fingernail tips. We pride ourselves in producing uniquely beautiful and durable artificial nails - nails that will look like you grew them yourself.
Talon Tru-tips are manufactured in a wide range of sizes which helps assure that everyone will find a great fit. Our nails even come in sizes to accommodate people with larger hands.
Talon Sales & Distribution is a gender friendly company.